The Pulp & Paper Centre at the University of Toronto, which exists within the umbrella of the Department, was founded in 1987 by Professor Doug Reeve, who was the Director for fifteen years. Although the Centre has grown and changed with the challenges that face the industry, its mission has remained the same: it continues to facilitate partnerships between the University and the pulp and paper industry in order to provide excellence in education, research, and information transfer.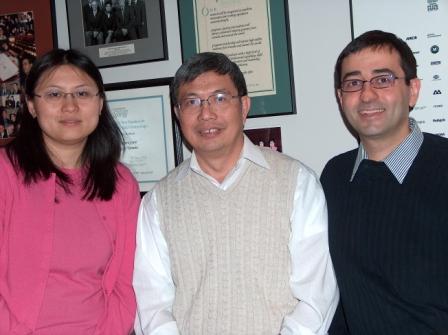 (l to r):Associate Director Ning Yan, Director Honghi Tran and Associate Director Ramin Farnood
The Pulp & Paper Centre is currently supported by three core companies: Bowater Canadian Forest Products Inc., ERCO Worldwide, and Tembec Inc. Since 2004, it has been directed by Professor Honghi Tran, together with Professors Ramin Farnood and Ning Yan (Forestry). Embracing the new biological and hi-tech tools in a multidisciplinary approach, the Centre has broadened its activities to include biorefinery research projects which seek to convert forest biomass and mill effluents into alternative sources of energy, including methane and bio-ethanol.
Research within the Pulp & Paper Centre is organized around five groups: Environment, led by Professor Grant Allen; Energy and Chemical Recovery, led by Professor Hongi Tran; Lignocellulosic Fibres, led by Professor Mohini Sain; Surface Science of Paper, led by Professors Ramin Farnood and Doug Reeve; and Biotechnology, led by Professor Emma Master. Cutting-edge projects are carried out with the support of three industrial consortia and various grants. In the past year alone, a total of $3.2 million in research funding was provided by NSERC and over thirty pulp and paper related companies in Canada, the United States, Finland, Sweden, Japan, Brazil, and New Zealand.
In addition to working with industry partners, the Centre has collaborated with numerous universities and research institutions, both domestic and international. It also actively participates in the Canadian Forest Biorefinery Network established by Pulp and Paper Innovation in Education and Research (PAPIER), an organization consisting of industry sponsored PAPRICAN and the seven pulp and paper centres in Canadian universities. PAPIER allows its members to combine industry experience and research on a national scale to "get the best out of the forest".
The Pulp & Paper Centre encourages extensive student involvement at both the graduate and the undergraduate level, drawing upon an impressive pool of talent: 51 graduate students, 28 undergraduate students, 25 associated staff, and 46 faculty from several departments within the University of Toronto. The graduate student training and professional development programs are a core activity. Students have enthusiastically participated in the Industrial Internship program, which allows selected candidates to work in a pulp and paper mill for two months in their research areas. They have also organized many technology tours, both within Canada and to the United States, Scandinavia, Japan, and Brazil, and they are planning a tour to China this summer. The vibrant program mounted by TISCUT enables students to develop outstanding research and leadership skills so that they become active members of the pulp and paper community.
In recent years, the Centre and its faculty have received broad recognition, winning a 2003 NSERC Synergy Award for Innovation with ERCO Worldwide. In addition, Professor David Goring was inducted into the Pulp and Paper Industry Hall of Fame in 2006, Professor Honghi Tran, recently appointed to the Frank Dottori Chair in Pulp & Paper Engineering, was the recipient of the prestigious TAPPI Beloit Engineering Award (2006), and Professor Doug Reeve was recently awarded the 2007 John S. Bates Memorial Award, the highest honour bestowed on an individual by the Pulp and Paper Technical Association of Canada.
On July 1, 2007, the PPC will celebrate a milestone: twenty years of self-supporting operation. The Centre will continue to make flexibility its major operating principle in order to keep up with the challenges of a post-Kyoto world and help transform the pulp and paper industry into a sustainable industry of the future.
(Article published in INTERFACES, Vol.5, No. 1, Spring 2007, Department of Chemical Engineering and Applied Chemistry)